Instruction


With over twenty years of shotgunning experience, I will teach you the fundamental techniques that will make you a successful shotgunner. Whether your preference is trap, skeet, or sporting clays, I will show you the basics, and teach you how to methodically approach each target, so your chances of obtaining a clean break of the target will greatly increase every time you step up to the line.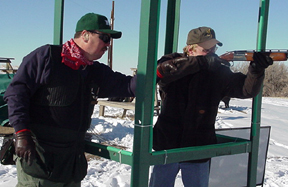 I start with basics, such as:
Safe Gun Handling Practices
Proper Site Picture

Proper Foot Placement and Position
Proper Gun Mount and Hold Points
Proper Gun Fit
Private and Group Lessons Available.
Click Here for More Information on Shooting Lessons.
---
CUSTOM RIFLES| CONTACT US | BARREL WORK | RESTORATION |
GUNFITTING | HOME |
© Copyright 2001, Nick's Custom Gun Works. All rights reserved.

website designed by Mountain Color